On February 22, 2003, we investigated Scribner Custom Computers, a computer store and web server location in Alva, Oklahoma. Members present were Mike and Alex of Oklahoma Ghost Patrol, Tammy and Shirley of Eerie Oklahoma, and Tonya of GHOULI.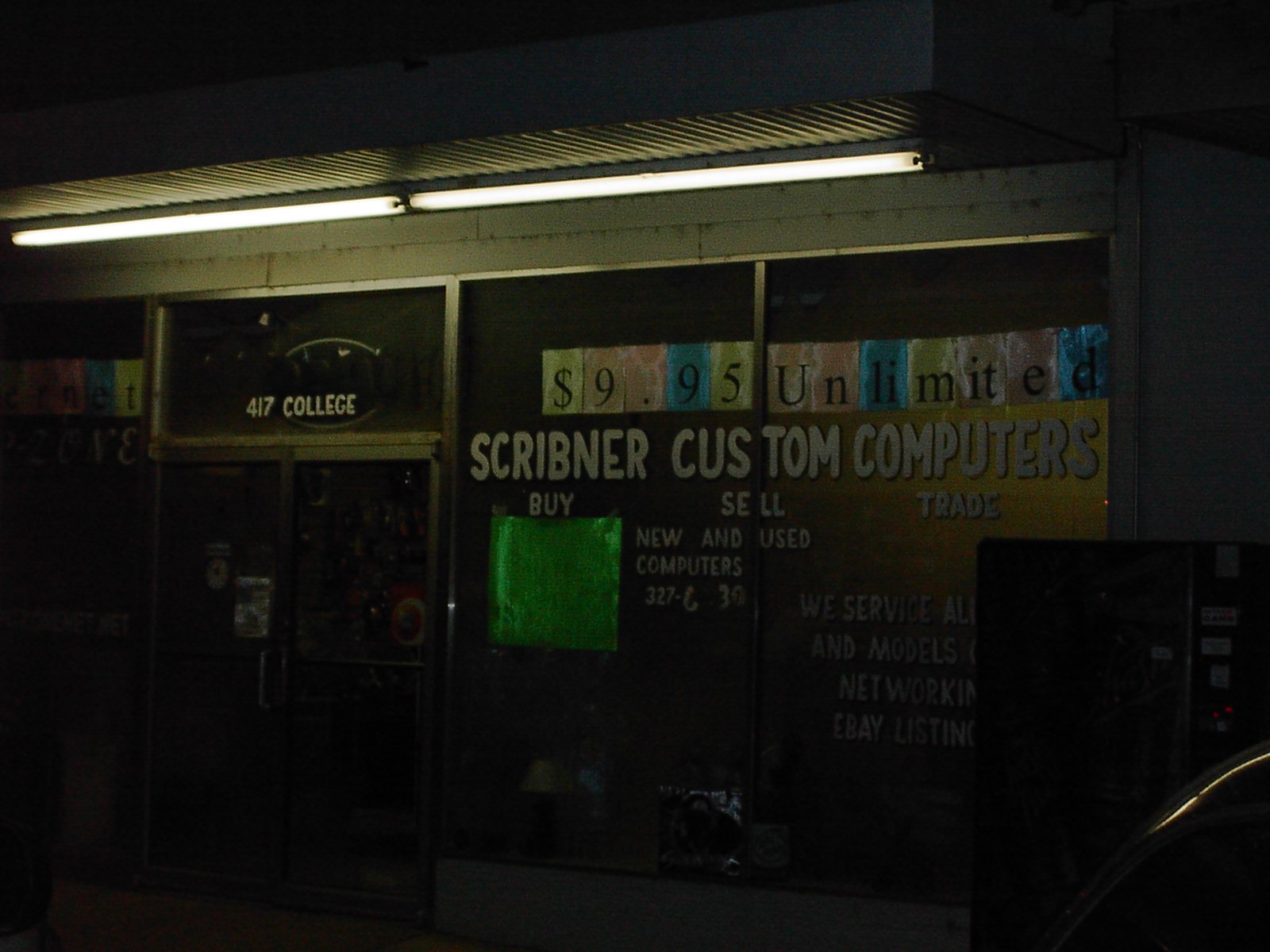 The owner and operator reported many things happening there. Tools had dissappeared and reappeared at different times. There were loud bangings witnessed by several people. At times voices of children could be heard. On one occasion, the Christmas bells at the front door jingled and someone yelled out. When the owner and another person ran out to investigate, no one was there. At times someone or something even whistled for the dog.
We started this investigation with a tour given by the owner. He gave us the general lowdown of where different occurances had happened, and even a bit of a tale about a curious little iron horse. The horse had been known to change positions to where it faced the front of the store before the end of the day, no matter which way it was facing when the day started.
Our first area of investigation was the room at the very back. A few orbs were caught on video in this location. We used almost our entire box of goodies here. Not used were the motion detectors, due to the fact that there were a lot of areas being walked and moved through by us at any given time. EMF seemed to track down a lot of signals coming from all of the electronic devices there. Mostly fuseboxes and the like.
A lot of time was spent in the basement area. After reviewing the video and the digital camera photos, nothing appeared to turn up down there except for the occasional orb on video. The middle area was the last one to be explored by us. Some obs appeared on the video, including a few brilliant ones. The digicam did not seem to capture anything here. There was little activity on this night, but that does happen on occasion. That does not mean the place is not active. It's kind of like fishing, they don't always want to bite. Audio is yet to be reviewed by us. The other teams, Eerie Oklahoma, and GHOULI, may have captured more activity than we have. As soon as we get feedback from them, it will be posted as well.
We would like to thank the owner and his family for having us there that night. They run a decent computer store, as well as a web server at very reasonable prices. Tammy and Tonya both picked up a few items there. Even I did not get out the door without buying a stuffed pig that Alex took a liking to. They are good people there. If you are ever in the area, stop in and see them at Scribner Custom Computers.